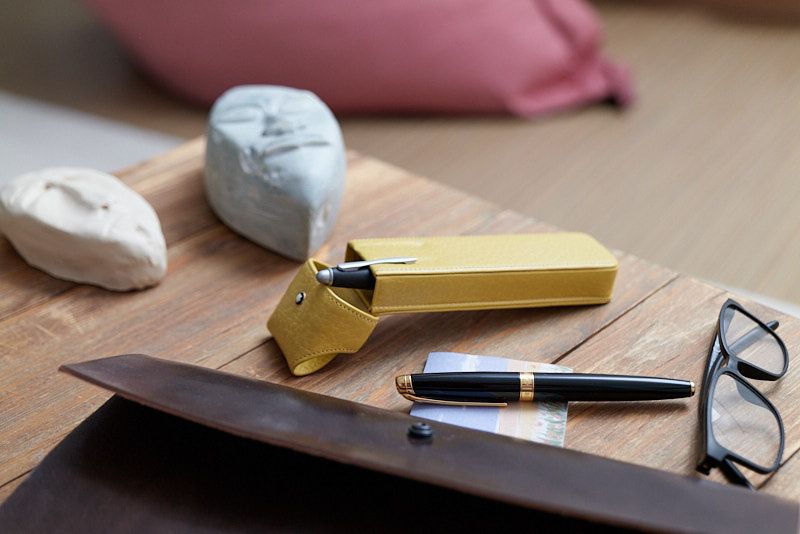 Enabling teens to better support each other with mental health challenges
I am delighted to introduce a series of student posters created by M and S from our very own ISH ChangeMakers Club.
Being a teenager is difficult no matter what, and the coronavirus disease (COVID-19) is making it even harder. Missing out on events with friends, hobbies, or sports matches is incredibly disappointing. These are large-scale losses. They're really upsetting and rightly so to teenagers. When it comes to having a painful feeling, the only way out is through. Processing feelings looks different for everyone. Some youngsters make art, some lose themselves in gaming and some are going to want to talk to their friends and use their shared sadness as a way to feel connected at a time when they can't be together in person. More than ever, people need a trustworthy place to turn to for guidance and hope. Working with young people, I am realising that their first 'trustworthy' place to turn to is their friends.
The first poster in the series is "How to Tell If Your Friends Are Struggling with Depression".
A student I spoke with told me "I am lucky that my brain isn't chemically wired for depression but I'm all too aware that I have friendships with people who do have depression".
If you are one of the lucky ones not prone to depression you need to have empathy for people whose minds are.
Students I meet are very open to talking about mental health and have a wish to watch out for their friends. Not only do they want to know the warning signs but they also want to engage with those about whom they are concerned. They do not want to downplay or stigmatise those feeling depressed. The poster reflects our students' need to encourage inclusivity and care for their community face-to-face or online.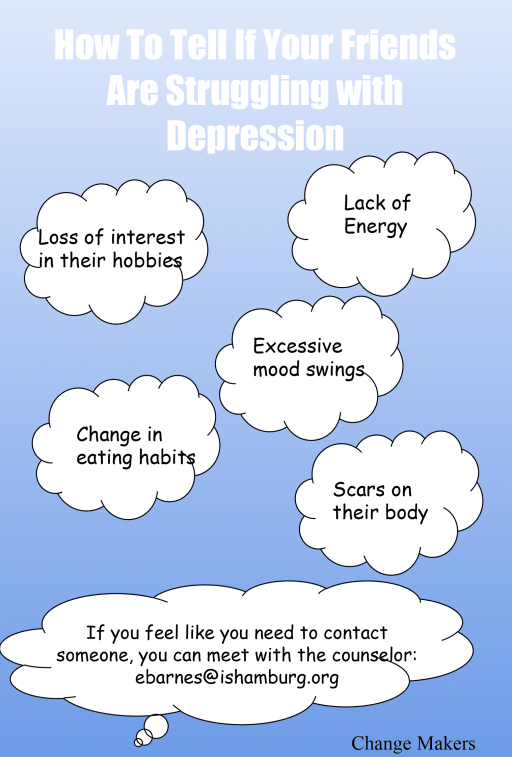 The second poster in the series explores "How to tell you are suffering from an eating disorder".
If you are supporting a friend recovering from an eating disorder, it takes time. It's important to have patience and empathy and to stay positive.
It is also important to learn about eating disorders. The more you know, the better equipped you'll be to help. Our students are communicating online together and I encourage them to listen to each other without judgment. They show that they care by asking about feelings and concerns—and then truly listening. I ask them to resist the urge to advise or criticise, but to simply let their friend know that they're being heard.
We also talk about being sensitive in discussions about food, weight, eating or making negative statements about their own body.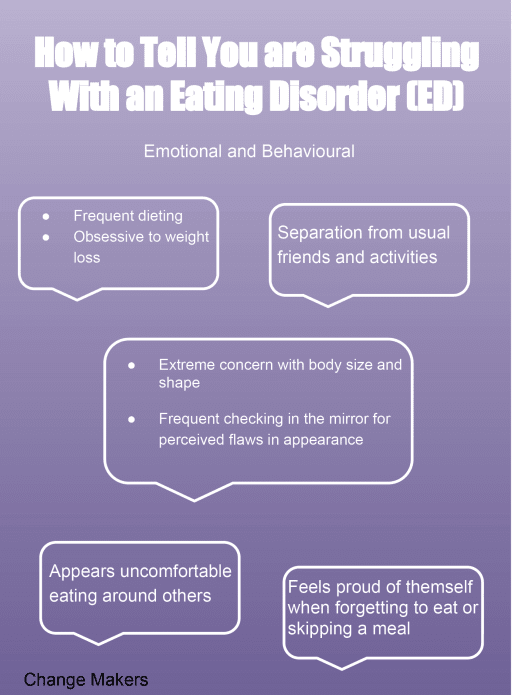 The final poster in the series talks about "Reacting to Self Harm". Self-Harm is a complex subject. If you are feeling vulnerable at this moment you may want to consider reading this at another time.
Supporting a friend who is using self-harm to cope with overwhelming feelings and anxieties is difficult. Coming across someone who injures themselves can invoke very raw emotions connected to shock. It is important to remind ourselves that intense reactions like these are not about the person affected, but in relation to the acts of self harm. It is the behaviour – rather than the person – that creates such a strong reaction in us.
Telling people to "just stop doing it" is not a solution and could lead to a breakdown in communication. The person using self-harm to manage their mental health will need help, support and understanding.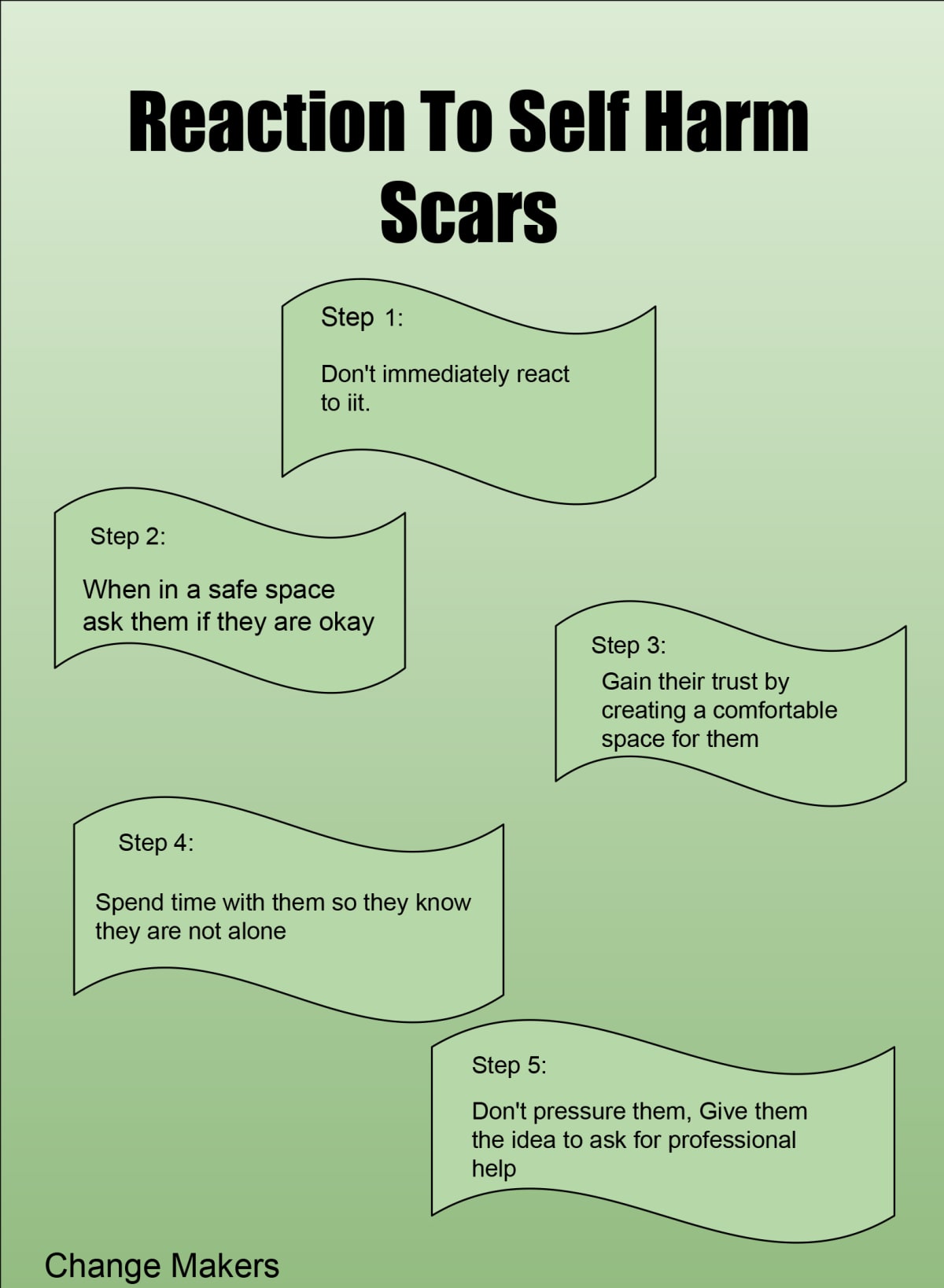 I feel proud to be part of a community keen to destigmatise mental health. It used to be that people were uncomfortable about discussing mental health issues. M and S's posters are a reflection of how young people embrace the opportunities to understand these issues further.
Presently a quarter of my referrals are peer referrals. I am proud of how our students take responsibility for their friends' well being. This is why it is so important to upskill young people, and M and S's posters do a great job of this.
Emmeline Barnes (Ms Emma)